By Jon Rico
Legendary director Martin Scorsese is back in the world of mob movies in a big way with his new 3.5 hour long epic crime drama "The Irishman". Based on the 2004 book I Heard You Paint Houses, the movie follows the real-life story of Frank Sheeran, a truck driver turned mobster who would be involved with the likes of Russell Bufalino and his crime family, and also go on to work for Jimmy Hoffa. Scorsese tells a mob classic like few are able to do in such a raw and brutal way, but The Irishman ends up being a very real and sometimes harrowing tale of mortality. 
The Irishman brings in a top-notch cast that features the likes of Robert De Niro, Joe Pesci, and Al Pacino, all who put in stellar performances and prove they are in a special league when it comes to all-time greatness in their profession. Pesci is as good as ever coming out of a lengthy retirement from acting to play Russell Bufalino. Pacino steals the show as the infamous Jimmy Hoffa. But Robert De Niro shines in arguably his best role in years as Frank Sheeran. It was nice to see all these guys at the top of their game working with Scorsese again.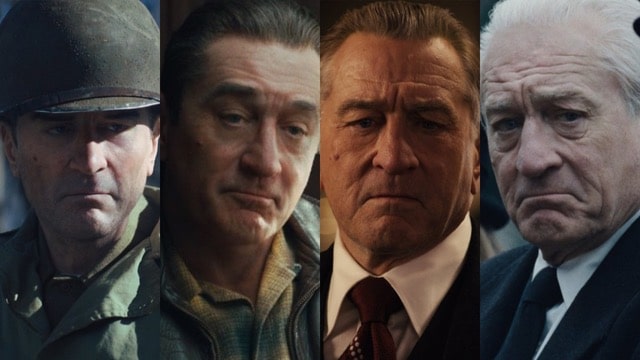 This film features a plethora of enjoyable supporting performances. Anna Paquin says so much with absolutely no dialogue in her performance as Peggy Sheeran. Harvey Keitel stands out as mobster Angelo Bruno. Notable comedians were featured in multiple roles such as Ray Romano as Bill Bufalino, Sebastian Maniscalco as "Crazy" Joe Gallo, and Jim Norton in a funny cameo portraying the late, great Don Rickles. Finally, Jesse Plemons, Stephen Graham, and Bobby Cannavale play small, yet meaningful roles in the film as well.
There are very few things you can nitpick about Martin Scorsese's latest film. On a technical level, the de-aging technology used to scale back our 3 senior-aged lead actors is a great achievement. But, not even the most flawless special effects can change the fact that these characters moved like they were far older than the character they were portraying on screen. In particular, a scene involving De Niro confronting a store owner showed some less than intimidating physical motion needed to portray Frank Sheeran at that time in his life. On the plus side, the de-aging used on Joe Pesci and Al Pacino looked and felt much more believable on screen.  
Despite minor quibbles with the movie's runtime and the special effects in certain scenes, Scorsese excels with another wildly engaging story exploring the life of mob families, masterfully telling the alleged story of what really happened to Jimmy Hoffa in a way that feels like the truth but also leaving it up for interpretation. Bringing together so many legendary actors in roles we haven't seen them in for ages was a treat in every sense of the word and worth every minute of the 3 hours and 29-minute runtime. You can watch The Irishman currently streaming exclusively on Netflix.