Jurassic World: Fallen Kingdom (PG-13)
Director: Juan Antonio Bayona

Plot: It's been three years since theme park and luxury resort Jurassic World was destroyed by dinosaurs out of containment. Isla Nublar now sits abandoned by humans while the surviving dinosaurs fend for themselves in the jungles.
When the island's dormant volcano begins roaring to life, Owen (Chris Pratt) and Claire mount a campaign to rescue the remaining dinosaurs from this extinction-level event. Owen is driven to find Blue, his lead raptor who's still missing in the wild, and Claire has grown a respect for these creatures she now makes her mission. Arriving on the unstable island as lava begins raining down, their expedition uncovers a conspiracy that could return our entire planet to a perilous order not seen since prehistoric times.
With all of the wonder, adventure and thrills synonymous with one of the most popular and successful series in cinema history, this all-new motion picture event sees the return of favorite characters and dinosaurs—along with new breeds more awe-inspiring and terrifying than ever before. Welcome to Jurassic World: Fallen Kingdom.
Cast: Chris Pratt, Bryce Dallas Howard, Justice Smith, Rafe Spall, Toby Jones, Daniella Pineda, Ted Levine, James Cromwell, Jeff Goldblum​
Marvel's Luke Cage- Season 2 (Netflix)
Plot: After clearing his name, Luke Cage has become a celebrity on the streets of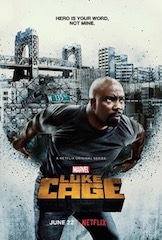 Harlem with a reputation as bulletproof as his skin. But being so visible has only increased his need to protect the community and find the limits of who he can and can't save. With the rise of a formidable new foe, Luke is forced to confront the fine line that separates a hero from a villain.
Cast: Mike Colter, Simone Missick, Theo Rossi, Alfre Woodard, Rosario Dawson, Mustafa Shakir, Gabrielle Dennis, Anabella Sciorra
Glow- Season 2 (Netflix)

Plot: While not much is known about the overall plot of season 2, expect a lot more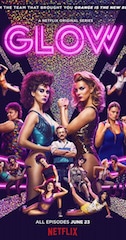 emphasis on the overall wrestling aspects of the show now that we are passed the origin aspects of the story.
Cast: Alison Brie, Betty Gilpin, Marc Maron, Kia Stevens, Sydelle Noel, Kate Nash, Britt Baron, Britney Young, Gayle Rankin, Ellen Wong, Marianna Palka, Sunita Mani