Crazy Rich Asians (PG-13)
Director: John Chu

Plot: The story follows native New Yorker Rachel Chu as she accompanies her longtime boyfriend, Nick Young to his best friend's wedding in Singapore. Excited about visiting Asia for the first time but nervous about meeting Nick's family, Rachel is unprepared to learn that Nick has neglected to mention a few key details about his life.
It turns out that he is not only the scion of one of the country's wealthiest families but also one of its most sought-after bachelors. Being on Nick's arm puts a target on Rachel's back, with jealous socialites and worse, Nick's own disapproving mother taking aim. And it soon becomes clear that while money can't buy love, it can definitely complicate things.
Cast: Constance Wu, Michelle Yeoh, Henry Golding, Ken Jeong, Gemma Chan, Awkwafina, Harry Shum Jr., Sonoya Mizuno, Chris Pang
Alpha  (PG-13)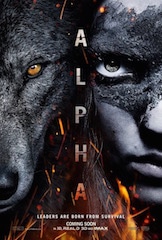 Director: Albert Hughes
Plot: An epic adventure set in the last Ice Age. Europe, 20,000 years ago. While on his first hunt with his tribe's most elite group, a young man is injured and left for dead. Awakening to find himself broken and alone – he must learn to survive and navigate the harsh and unforgiving wilderness. Reluctantly taming a lone wolf abandoned by its pack, the pair learn to rely on each other and become unlikely allies, enduring countless dangers and overwhelming odds in order to find their way home before the deadly winter arrives.
Cast: Kodi Smit-McPhee, Leonor Varela, Natassia Malthe, Priya Rajaratnam