The beginning of the new year marks the long-awaited inaugural season for Duke softball. Duke is one of the most prestigious universities around and, in the athletics world, is most known for their dominance on the basketball court thanks to Coach K. Duke's announcement of the addition of softball is only further evidence that our sport continues to grow at rapid pace and the attention that collegiate softball receives during the spring season cannot be ignored. The Blue Devils think they can ruffle some feathers in NCAA softball and I think they're right.
BLUE DEVIL SOFTBALL TIMELINE
December 16, 2013 – Director of Athletics, Dr. Ken White, announced that softball would be added to Duke's athletics roster as the University's 27th sport (14th women's sport) and would be set to compete in the 2017-2018 season.
July 29, 2015 – Former University of Michigan All-American and University of North Carolina assistant coach, Marissa Young, was tabbed Duke's first ever head softball coach.
May 23, 2016 – The university broke ground on the new Duke Softball Stadium.
September 16, 2017 – The Blue Devils held their first official full team practice.
September 30, 2017 – The team played in their first official fall game at Duke Softball Stadium versus North Carolina State.

DUKE'S FIRST HEAD COACH – MARISSA YOUNG
Marissa Young was a University of Michigan standout from 2000-2003 where she was a 3-time All-American and Big 10 Player of the Year. Following her playing career Marissa worked her way up the coaching ladder spending time as head coach at Concordia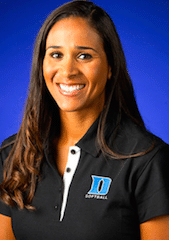 University in Ann Arbor, then as an assistant coach at Eastern Michigan University, and most recently as an assistant coach at the University of North Carolina, just a short drive from Duke. When the announcement of a future Duke softball program was made and it was time to seek out a new head coach, Young applied and was awarded the position. In an interview following her hiring Young said this:
"First and foremost I want to thank God for blessing me with this opportunity. I am honored by Dr. White's belief in me and entrusting me to start the softball program at Duke. Starting a program is a once in a lifetime opportunity, but to do it at one of the nation's most prestigious schools academically and athletically is a dream come true. Success is not a single event but a process. After meeting with Dr. White, I was confident in his visionary leadership and commitment to the process of making Duke Softball successful. The excitement on campus and within the athletic department about the start of our program has been astounding. I look forward to building this program from the ground up and to carry on the successful tradition of Duke athletics both on and off the field."
Throughout Young's career she played for and learned from several of the best in the sport and was then mentored by a few of the finest our sport has to offer. Carol Hutchins has spent 33 years as head coach of the Michigan Wolverines and is currently the winningest coach in NCAA history. Donna Papa has spent 32 years as head coach of the UNC Tarheels, where Young assisted prior to taking the position at Duke, and is 11th on the list of winningest coaches in NCAA history. To say Young's wealth of knowledge is full would be an understatement.
Click here to read Marissa Young's full bio. 
Fun fact for our community, Marissa spent a good amount of time in and around the Firecracker family! Not only did the Santa Ana, California native compete as a Firecracker but her father, Robert Young, was a coach in the organization and even won a National Championship at the 12u level. He continued coaching for several years at the youth level before he and his wife, Marcella, who is also a standout softball mom and coach's wife, followed their daughter out to the east coast where Robert is now a volunteer assistant at Duke.
Starting a program from the ground up cannot be easy with the logistics of recruiting and overall lack of momentum but I think Young and the Blue Devils have the ability to stair-step up the ACC ladder and into post-season contention within the next 5 years. If you keep the "big-picture" in mind, with Duke's academic and athletic excellence, who wouldn't want to be a Blue Devil? A few top-notch recruits and a couple of confidence-building seasons and they're there.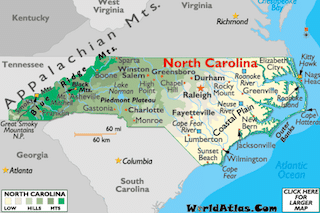 DUKE BLUE DEVIL STATS
 Founded in 1838
Location: Durham, North Carolina

Total Undergraduate Enrollment – 6,500-7,000
Student to Faculty ratio is 8 to 1
70% of classes have fewer than 19 students
To learn more about Duke University visit their website www.duke.edu.  To go directly to the athletics site visit www.goduke.com