If you keep your eyes and mind open to all possibilities, you may just find a diamond in the rough. For West Texas A&M University head coach, and former Firecracker, Candace Abrams, her road to Canyon, Texas was long but purposeful and her Lady Buffs team is reaping all the rewards.
West Texas A&M University softball has been a story of progress and excellence since the program began in 2006. The Lady Buffs have won four Lone Star Conference Titles, produced 15 All-Americans, made seven NCAA Regional Appearances, won two Regional Championships, and brought home the 2014 NCAA Division 2 National Championship. With more than half the season behind them, the Lady Buffs are currently 12-3 in Lone Star Conference play and 29-5 overall. They're also holding the #13 national ranking in the NFCA DII Top 25 Coaches Poll. To follow the Lady Buffs in the DII national poll click here.
About West Texas A&M Head Coach Candace Abrams:
Candace played for the Firecrackers in the late 90's under head coach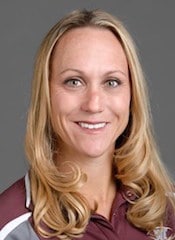 and founder Gary Wardein. She was in the first of many generations of players who made the journey from Arizona to play for the Southern California based team. Candace continued her playing career at the University of Arizona where she was a member of the 2001 NCAA National Championship team and hasn't left the dirt since.
Following her Wildcat playing career, Candace accepted several assistant coaching opportunities including stints at Pima Community College and her alma mater, Arizona, before landing the head coaching position at Colorado Mesa where she spent two successful seasons at the helm. In the summer of 2014 Abrams accepted the assistant position at West Texas A&M and helped lead the team to two Lone Star Conference Championships during the past three years. Her success as assistant coach made her the easy choice when it came to filling the head coach position prior to the 2018 season. To read more about Candace Abrams and her Lady Buffs program click here.
About West Texas A&M University:
Established: 1910
Enrollment: 10,169 (59 undergraduate degree programs)
Nickname: Buffaloes or Buffs
Conference: Lone Star Conference
Location: Canyon, Texas (population 14,600) – about 15 miles south of Amarillo
For more information on West Texas A&M University you can visit their website at https://www.wtamu.edu or click here.