We feel this is an important read for parents. Especially now, given the recent tragedies. We see a lot of ambition to get the scholarship and win big games, and Melissa has done it all, but she has a clear message for our families. Are you creating lifetime memories outside of softball with your daughters? I hope you can appreciate her perspective.
-Tony Rico
                                          —————————————————–
For many years I was always referred to as "the one who played softball." Lately I am "the girl who travels around the world." Both statements are parts of me, but what makes me who I am, most people wouldn't know.
I am the child who grew up watching her father play men's fast pitch, dreaming of the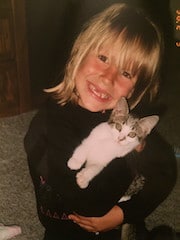 day I could finally take the field with him.  I am the child whose mother took her on spontaneous trips to Canada, Hawaii and other places across the United States.
In two sentences I have shown you the path to the woman I would eventually become.  It is my parents who shaped me to be exactly the woman I am today.  And it is my parents who gave me memories other than playing on a softball field.
As your child grows up you never know what memories they keep with them and which moments they will cherish.  But I ask this, are you giving your kids something to remember WITH you or are you just giving them moments where you are simply present but not involved?
My favorite memories come from moments spent with my parents that have absolutely NOTHING to do with me playing a softball game.
I had the pleasure of spending a ton of quality time with my father a couple days ago and I had a realization.  If anyone knows me they know he is one of my biggest heroes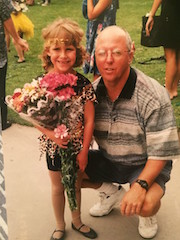 in life. My father is the entire reason WHY I began and continued to play softball. All I wanted to do was grow up and be just like my dad. Every Friday night during the summer he would play in a men's league and it was the best night of the week.  I would get to watch him catch and he would occasionally let me come sit in the dugout. It was the most exciting night ever, even though I would never stay there the entire game because I was running around the park.  After every game we would always end up going to the pizza parlor where I would beg my dad for quarters to get every fake tattoo and bouncing rubber ball I could.  All of this was topped off by him taking me next door to Thrifty's to get ice cream where I would get a triple scoop of rocky road, rainbow sherbet, and pistachio nut.  Usually the night ended up with me falling asleep on some bench or in some booth back at the pizza place.  Now, to some this doesn't sound like much, but to me those were the best days of my life.
While recently spending these couple of days with my dad we got to talking about many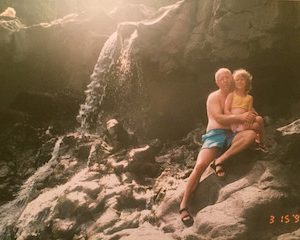 things from the past.  We talked about the road trips we took up to Sacramento, the concerts we went to in Las Vegas and San Diego, my dad's 40th birthday party, all the New Years and block parties we had, and finally all the family trips we took down to Carlsbad.  I will tell you this, there are rarely stories from the past that talk about me playing softball but there are stories about every other thing you could possibly imagine.
I want people to know I come from a divorced household that was not always great. BUT what is great are all the things that came before, that I haven't forgotten, and all the things that would eventually come after.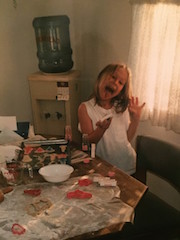 Here are some memories that come before. I grew up near a park and Thursday nights during the summer they would have "Picnic in the Park" where either a band would play or a movie was shown.  This would be our night to grab some KFC and go out and watch whatever was playing.  Now I cannot say that I remember who or what was playing but what I can say is that I remember that time spent as a family.
Another memory was at our block party. My family and our neighbors got together, closed down the street and hired a band to come play for everyone.  I can never forget this band, it was the Elm Street Band.  They were phenomenal.  Always playing the best oldies that everyone loved to dance to.  My father was always my favorite dance partner and still is to this day.  He would spin me around the floor and let me bounce all over the place. What more could a girl ask for?
By now you're probably thinking, "She spent a lot of time with her father but what about her mother?"  The memories of my mother and me are very different than the ones of my father and me, but they are amazing in their own way.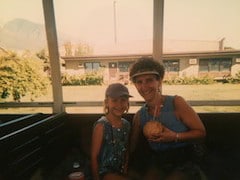 Let me tell you, my mom was the best when I was a little girl.  One weekend when I was in first grade she told me I was going to miss school on a Friday and she took me to Hawaii for the weekend, just a girl's trip.  How awesome is that!? What I remember from that trip will probably make you laugh.  I don't remember the beaches or anything like that. What I do remember is sitting next to my mom on the plane and drinking some kind of fruit drink with a flower in it.  That is literally all I remember and I have never forgotten the feeling of thinking I had the greatest mother in the world. It was almost a feeling of royalty to be able to sit next to her and have my fruit drink.
Many times growing up my mom would dance around the house with me singing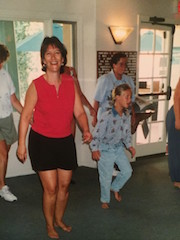 whatever music I chose to play. She didn't always know the words so she would make them up and I would laugh uncontrollably, an inheritable trait I might add. She was also the person who turned every softball tournament into an experience. She took me to Memphis to see where "the King" left his mark, Atlanta's Underground Railroad, the Space Needle and Mount Rainier in Seattle, and walked with me across the suspension bridge in Canada. My mother made it so much more than softball. I cannot even tell you how we finished in whatever tournament we played in, but again, what I can tell you is about all the beautiful places she showed me. Maybe she knew at the time I didn't fully appreciate it but knew later I wouldn't forget it. And she was right. Thanks, Mom.
One thing that was really special for me was being able to watch my mom walk at her college graduation in 2000. While I was spending a lot of time with my dad as child, my mom was working full time and going to school at night so this was a very proud moment for her and, being her daughter, I couldn't have been more inspired.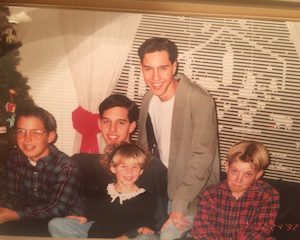 I could go on and on about my family, especially with having four brothers and all the memories I shared with them.  Whenever we get together I love to hear stories about how things were for them when they grew up and memories they have.
This is what I wanted to share with all of you.  I know sometimes we get caught up in our world of softball and it seems so important.  There is another perspective and it is something I wish to enlighten everyone with.
One day this game is going to end for your daughter, whether on good terms or bad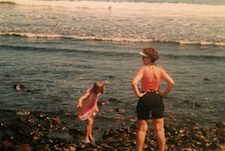 terms.  It will end. These are just a few of the memories that will stick with them forever but it will be the TIME they got to spend with you that will matter the most.
It is not to say that softball isn't a big part of my life, it is. However, when I look back, I had an amazing childhood and parents who took the time to be with me so I was able to build these memories I can cherish and appreciate. I am happy my parents involved me in the things they liked to do such as having barbecues with friends, bowling in a Sunday league, or going to the river.  Their lives did not revolve around mine and because of this I was able to see my parents, watch them, and experience life with them.
This realization came from driving around, going to work with my dad (something I still LOVE to do) and talking to him about all the things I remembered as a kid. As a result he asked me to go through old photos that my mother had kept.  It was the best thing he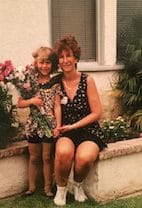 could have asked me to do because it reminded me of all those moments. I was able to smile and fully appreciate them 20-25 years later.  It was also wonderful to see the story of my parents and how they changed over the years, along with myself. Even though their story together ended, it was and is great to see how we have all evolved yet still remain very much the same.
Thank you to both my mother and my father for sharing these beautiful times with me.  My hope for all is that we keep everything in perspective and realize that TIME is the most valuable thing.  I will never forget the times I played catch with my father or danced around the house with my mother.  These moments are forever invaluable.
So, I ask what kind of memories are you really making with your daughters?
-Melissa Roth