From Mel:                                                                                          December 26, 2016
Cairns is a place everyone should visit at least at some point. It was a perfect little town on the water. There were so many day trips I got to do while I was there. There were breathtaking views from the Daintree National Rainforest, a quick adventure to green island basking in the sun, and finally a trip out to the Great Barrier Reef. I started by heading out to green island, relaxing in the water, and swimming with the fish that came close to shore.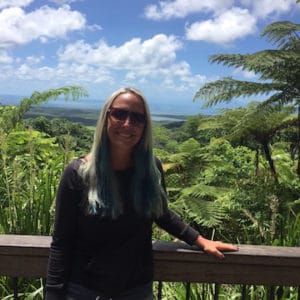 Going to the Daintree Rainforest the next day wasn't actually planned, just a bit spontaneous, and it was well worth it. Taking a quick cruise down the river seeing crocodiles and then being able to swim in a small creek with crystal clear waters.  I even got to see a whole lot of wallabies. After that I took the next day off and got up for an early swim in the local lagoon. It was a perfect way to start the morning. The absolute best part of my trip was Christmas Eve visiting the Great Barrier Reef. I got to go scuba diving for the first time in my life. We swam next to a Reef shark and even got a visit from a turtle. The colors of the fish and coral were a sight to see and with such a small group it made it all worthwhile. This so far has been the absolute best place I have visited.