The first ever travel team to venture over to Cuba has returned home heavily inspired! Coach Manny Travieso, and the Firecrackers USA Team set out on a once-in-a-lifetime adventure this past July and the journey did not disappoint! Read the journal entries below documenting the day by day events from the time they hit Cuban soil to the time spent on the field with new friends.
********************
Day by Day Firecrackers vs Cuba "Copa Amistad" 2017
 Traveling to the forbidden Island of Cuba was an exciting thought to contemplate last July. I knew this would come with many challenges for me as the head coach wanting to take the 1st USA travel softball team to Cuba which could potentially be a once in a life time opportunity. However, with the support of Tony Rico and the Firecrackers softball community I was able to make this happen. Having played against both Junior and National Olympic softball teams was a dream not many softball players can say happened to them!
 Day to Cuba
Saturday July 22, the Firecrackers USA team got together to practice for the 1st time at the Firecrackers Media City Softball Field in Burbank, CA. This was a meet and greet for the players and their families. The players had a chance to take pictures and videos for the media and were interviewed for news spots on NBC and Telemundo. Having players from different states made it difficult for the team to practice together before the trip. It was exciting to see these amazing athletes come together as a team within hours of seeing each other. 
 The morning started with an unexpected surprise. The entire team got around to receive their uniforms and gifts as the USA Firecrackers Team. Each player received a new bat and glove from Easton, 3 new uniforms from the Firecrackers Organization and Play with Honor, 2 sets of pants and 3 headbands from The Gluv and new nets from Jugs. They also received 2 sets of Firecrackers T-shirts with their names and the USA and Cuban flags from MundoFlix.com
  After all the excitement of the media, videos, pictures and gifts, Coach Tim Humble and Head Coach Manny Travieso worked with the players on a 4 hour practice. It was clear from the beginning that these players had something in common. They were talented, athletic, and demonstrated a tremendous team work attitude.  Following practice, the team and their parents headed to have lunch and said goodbye until the next morning.
 Day 1 of 6 Cuba
 Sunday July 23, the team met at LAX at 6 am to get ready to board Alaska Airlines, nonstop flight to Havana Cuba, which departed after 8 am. As we were ready to take off, the flight captain congratulated the team for being the first softball travel team from the USA to travel and play in Cuba.  This was the time when parents and players alike realized that this was actually happening!!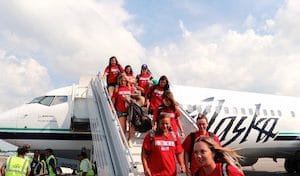 Once we landed in Cuba and looked at the scenery, this trip became 100% more real, the size of the airport, scenery, old structures and of course the humid, hot weather. Passing through customs before retrieving our luggage we were surprised at the calmness and minimal police and armed forces. Everyone was extremely welcoming and had big smiles on their faces. 
 As we exited the airport, we were greeted by a big air conditioned charter bus which became the players, coaches and parents' mode of transportation while on the island.  Parents were overly happy and excited to see old antique and Russian cars driving around them. As we drove in the charter bus to our hotel, there were very few cars on the road. We saw many billboards about communism and about how great communism is for people. Signage about the embargo was seen everywhere and called it the greatest genocide in the history of humanity. We were reminded by our travel agent that we were on foreign soil and had to respect their political views.

 Our hotel, The Hotel Nacional, was about 30 minutes from the airport. It was majestic and it is reported to be the biggest and best hotel in Cuba. There is a lot of history in this hotel from Hollywood elite stars and famous figures that had previously stayed there. This was rapidly seen through pictures displayed throughout the hotel walls. The hotel structure is old but all our rooms were clean, air conditioned, and had tv and wifi as well as a beautiful view of the beach. Our travel agent had money to exchange for us. In Cuba there are 2 different kinds of currency, the national currency which is not worth much and the CUC, which is exchanged at a higher rate.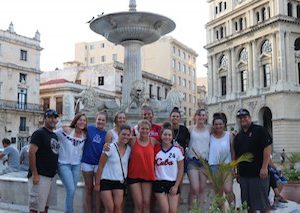 After we all checked in, we met at the buffet restaurant for dinner and discussed our schedule for the next 5 days.  Most parents and players, although very tired, went for walks around the hotel premises that night. They all followed the sound of Salsa music till they got to a concert in the park very close to the hotel.  There was dancing, food and drinks. Despite not having any police presence, the atmosphere was calm, happy and fun. That night we learned that the young people in Cuba don't have much to do, besides hanging in groups, dancing and spending time with each other. Most housing areas don't have cable TV, Internet, Movie Theaters, etc…
 Day 2 of 6 Cuba
 Monday July 24th, we had our first 2 games planned back to back. One would be with the Jr. Olympic Team and the 2ndgame would be against the National Olympic Team. We arrived to a building and complex that looked abandoned.  It was old and had lost most of its paint. We later learned that this complex was used to host the Pan-American games in 1991, which was most likely the last time this building was painted and taken care of. 
We walked in as a team through this building to get to the softball field. As we got closer we noticed that people lived there and we were told that this is the place where the top athletes of the country live and practice. The field looked nice, although it was old.  The bases were old and loose and coming apart. The nets used for batting practice were basically iron rods with fishnets on them.
 We played against the Jr. Olympic team first and did very well beating them 8-1. As the National Team looked on, it was their turn. We got mercied as expected. These women were very good. Their ages ranged from 22-38 year of age against our 14-18 year olds. Our team NEVER GAVE UP and left a very nice impression on the opposite team as head coach Luisa Medina said later in an interview "We were impressed with the never give up attitude of the USA players no matter what the score was".
 On our way back to the hotel, the players could not stop talking about how exciting it was to be there and play these teams. They found out that the ages of the Cuban Jr. Olympic team were between 14-19 years old and the Cuban National ages ranged from 22-38! Our players also noticed that most players did not have cleats. They would wear soccer shoes or just plain old tennis shoes. They also only had 4 helmets and 2 bats that they would share among themselves. This was the condition in which these players practiced. It started to sink for many of us that we were no longer in the USA; we were in a different world where most of our daily necessities are seen as luxuries for the Cuban people.
 Day 3 of 6 Cuba
 Tuesday July 25th , just like the day before, we were set to play 2 games, but this time, we would mix and match players from both the USA and Cuban teams. First, we mix and matched our team with the Jr. Olympic team. They gave us 7 players and we gave them 5. The game was a lot closer but the team that Asst. Coach Tim and Head Coach Manny were coaching, beat the Cuban mixed team.  We did the same thing with the National Team on the second game.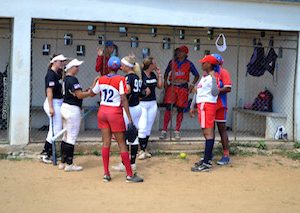 To be able to see the players from Cuba and the US play on the same side was priceless. At the beginning of the game, you could see the USA players on one side of the dugout and the Cuban players on the other side.  However, as the game went on, the players came together as a team, even if they were from different worlds and spoke a different languages. They were using the international language of softball to communicate plays and the game with each other. The game was close but, again, the team that Coach Tim and Coach Manny coached won.  Although the weather was hot and humid, they all played well and handled themselves professionally as expected.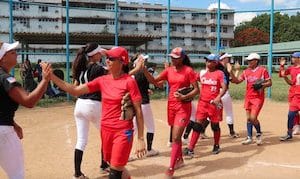 After the games, all players from both USA and Cuba spent time together talking via interpreters, exchanging jerseys, headbands and visors. We learned their ages, education, and passion for the sport and their unconditional love for their country.

 As we drove back to the hotel, it definitively became apparent by the parents and players conversations what an experience this was. Everyone understood the enormous privilege it was to be able to play and mingle with these athletes.

Day 4 of 6 Cuba
Wednesday July 26th , on this date each year, Cubans celebrate, the National Revolutionary Day in Cuba. This day celebrates the day in 1953 when a band of rebels led by Fidel Castro attacked military barracks in Santiago de Cuba in order to overthrow the government of Fulgencio Batista. This day is not celebrated by Cubans in the US as it marks the beginning of the communist party in Cuba. 
 Since this is recognized as a national holiday and most events and places are closed, we decided to head to Varadero Beach in Matanzas. This beach is world known for its beauty, crystal clear water and its Caribbean warmth. The 2 hour bus drive was worth it as we were able to see a bit more of the island.
 We spent the early part of the day at the beach. We ate lunch at the beach and if this was a team and family bonding, I would put it as the best team bonding in the history of team bonding. Coach Tim Humble rented a paddle boat for the girls and they had a great time taking turns using the boat. To top the day off, the players lined themselves in the ocean and created the "F" sign for Firecrackers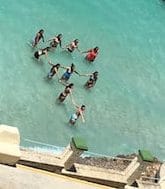 After the beach, we headed back to the hotel to change and get ready for an evening tour in Old Havana.  Although it was a holiday, some shops were open, like the famous Bodeguita Del Medio, were the famous Mojito was born and frequented by Ernest Hemingway. We saw amazing architecture and its history kept the entire team and their families captivated. This tour capped the great "holiday" day off from softball. 
 Day 5 of 6 Cuba
 Thursday July 27th , as planned, we played our last game against the National team in the morning. Unlike our first time facing them, we played them a lot closer this time around. We held them to 0 runs for the first 3 innings. After a few bad breaks and timely hitting, the national team went ahead 5-0, and later built on that lead and beat us 11-0. Again, just like the first time we played them, our players were always in the game, fighting till the end. The experience to have played and lost to the actual team that will be playing in the Olympics in 2020 was definitively an experience on its own.
After a short break, we had a combine practice with the national team and their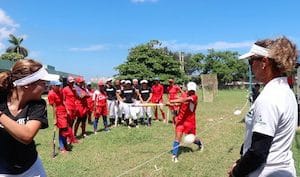 head coach Luisa Medina. Luisa Medina was the first Cuban player to be inducted into the hall of fame of the international softball federation. After the combine, players exchanged jerseys and ALL our firecracker players left their gear, gloves, shoes, etc there. It was a great deed to experience this exchange of friendship,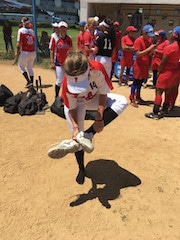 softball and the love for the game! One of our players, Dana Ebesaid said, "it's so easy for us to go out to the store and get whatever we need or want and these players do not have that luxury". The Firecrackers USA head coach, Manny Travieso left all his gear there along with all donated items from the Firecrackers Org. Jugs and Easton. "They were so happy to get the gear. It felt like Christmas in July for them" Coach Manny said.

Although, The Cuban players did not have much, they gave all our girls a gift bag with a few goodies from their country. What most impressed us is that they kept stats on our team and surprised us with some medals. These medals where old and used which added more value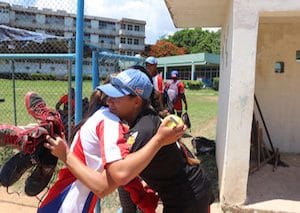 to the situation. Haley Gatica  got a medal for best pitcher, Brianna Heaviside got a medal for most hits and Lillyanna Travieso would have gotten a medal for best glove, but they only had 2 medals to give. They also wanted to recognize the coaching staff for our work there and wanted to give a medal to Coach Tim Humble and Head coach Manny Travieso. Their intentions were there and we were very thankful for their kind effort.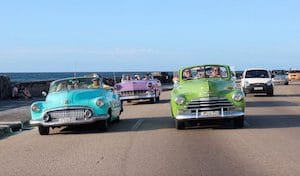 After hugs and good byes, we got back to the hotel and got ready for our last night out. The travel agent had planned a dinner outside the hotel in a well-known restaurant in Havana named La Roca. To our surprise we were picked up at the hotel by 7 convertible classic cars. Every player and parent had huge smiles on their faces as if Santa Claus had come to see us. This definitively was an amazing way to celebrate this amazing week and final night in Cuba. For an entire hour, we toured around Havana in these classic convertible cars.  The team and parents had smiles from ear to ear the entire night!
 Day 6 of 6 Cuba
 Friday July 28th , after an amazing week in Havana, we woke up, had breakfast for the last time in the hotel, checked out and took the bus to old Havana one last time to buy souvenirs. On our way, we stopped at El Moro, where the famous lighthouse is. To our surprise, while waiting for El Morro to be opened to the public, we bumped into the professional Havana baseball team Los Industriales. They were waiting to get recognized for their season. The girls came out and were happy to take a picture with them. Los Industriales are compared to the NY Yankees of Cuba. This is where famous Cuban MLB players come from. Some parents exchanged hats and even bought hats off their players. After this brief encounter, the tour guide took us to a flea market place where we bought souvenirs.

We got back in our amazing bus one last time and headed to the airport to wait for our plane and headed back to the US. While we waited for our flight, we got wifi access and everyone check their emails and texts. Coach Manny was surprise to see a tweet from Comedian Rob Schneider acknowledging this Firecracker USA team for their historic trip to Cuba. In return, the girls wrote a note thanking Rob for the tweet before we boarded the plane.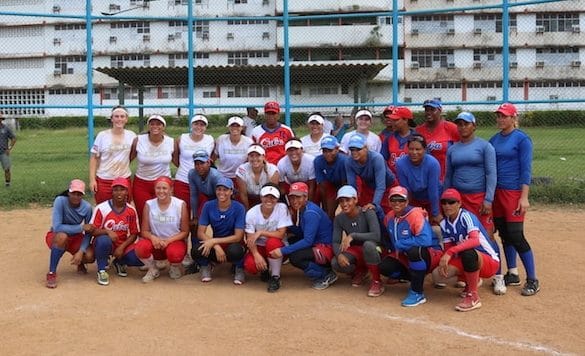 ******************** 
UP NEXT: Firecrackers USA Team take on Columbia! Stay tuned for details!