I had the pleasure of catching up with one of my favorite Firecracker alumnae, and new Oregon Duck, Allee Bunker.  Allee spent six years in the Firecracker organization under coach Mike Lutterloh (3 years), Sean Brashear (1 year), and Tony Rico (2 years). Allee committed to the University of Oregon as a sophomore and at that time becoming a Duck was, and still is, one of the hottest tickets in the country.  She arrived on campus just a few months ago and through dynamics of the coaching change and the demands of her new student-athlete life, Bunker remains on top of her game and thriving.
You found out that the Oregon coaching staff would be leaving just months before heading up to Eugene. What was your initial reaction to the news and how did you process through it?
Allee:  The day Mike White announced he was leaving Oregon, I had travelled up to Colorado for the summer tournament, and I saw the texts as soon as I got off the plane. Never once did I consider transferring after I heard the news, but I was very worried about the team's reaction. My biggest fear was that we would lose a majority of the team once a new coach was named, but I was still committed to going to Oregon 100%. Honestly, I lost some sleep the first week because I still couldn't believe that I was losing my coach after years of picturing myself playing for him. My teammates stayed in touch constantly reassuring everyone that the University would get the best possible person for the job, and this helped me get through the shock.
What was your feeling when you met your new coaching staff and what was the overall message to the team?
Allee:  Throughout the time where our softball program was coachless, we had been communicating through conference calls with various people from the University who were in charge of hiring a replacement. They kept telling us that it was a long process, but they would do everything in their power to get the best coach possible. I was very excited when I first heard that Coach Lombardi was going to be our coach because I knew that she has one of the best resumes and track records in softball. I knew that she had come to my travel games constantly because she knew the Firecrackers and Tony Rico very well. It was exciting to know that I had a new coach that wasn't unknown to me. I met Coach Lombardi over the summer during PGF and immediately loved her, and when I came to school in late August I met the rest of the staff as well. It was reassuring that three out of four of my coaches are familiar with the Firecracker organization, and I have really enjoyed playing for them. 
The overall message to the team initially was that the coaches knew how unexpected the change was to the upperclassmen and expressed that we need to trust each other in order to be successful. The coaching staff has been very patient with us and reassured us that they knew it was going to take time to adjust to the change.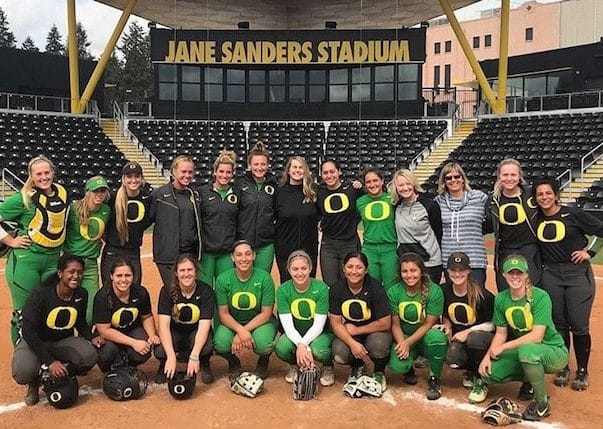 Oregon has been in the top of the polls and WCWS contenders for the past several years, what is your mentality going into a program like that? (In terms of expectations for the season, competing for a spot, etc.)
Allee:  Before coming to Oregon, I had always been nervous to play on the team because the program has very high expectations. Though I was also excited, I always knew that it would be a mentally and physically tough environment. I knew then and now that I needed to show 100% effort every time I stepped on the field, and that they would not take it easy on me just because I was a freshman. The new coaching staff made the transition a little easier than I thought because everyone was in the same situation I was as a freshman. Everyone had to adapt to a different practice and game environment, and this transition was smoother than I expected. 
For the most part, the team is very young, but we have very good experience from our upperclassmen. My teammates have made it very clear that despite how young our team is, we will not show it during season. We have the highest expectations for the program and know that the only thing standing in our way is ourselves. 
How have you been able to balance your school/softball load?
Allee:  Balancing school and softball has been very difficult, but it feels like it gets easier as the weeks go by. The toughest part for me about softball would be waking up for 6 or 6:30 workouts almost every week day. It is hard to pay full attention in class because of how tiring it is in the mornings, but it is not impossible to get through. 
 What has been the toughest adjustment for you?
Allee:  I think the toughest adjustment for me so far has been the amount of practice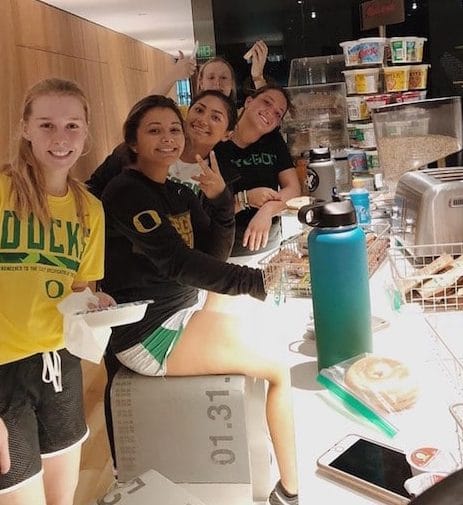 every day. It is tough to wake up at 5:30 every morning and have a three-hour practice in the afternoon. My body has been very tired, but the coaches are good about giving us rest time when we need it. The work load for school is pretty big, but it has not been too difficult to keep up with. I have been told that our preseason and season schedules are very busy, and that the fall should be the easiest part of the school year. I am excited for season and ready to face any challenges thrown at me whether in school or softball. 
Can you give us a glimpse into a typical day in the life of Allee Bunker?
Allee:  A typical day for me would start by getting up in the morning for workouts, where we would do conditioning or weights or both. Then, I get breakfast at the Hatfield-Dowlin Complex which is a building next to the weight room and football stadium. If I have time, I will get a ride back to the dorms and change into clothes for class. My classes go 8:30-12:50 almost every day, and I will go grab lunch and head to the fields for practice. I have tutoring in the evenings after practice at different times every day. The rest of the night, I eat and finish my homework. 
How did your family (parents) help prepare you for life away from home?
Allee:  My parents have been a huge part of what helped me transition to college.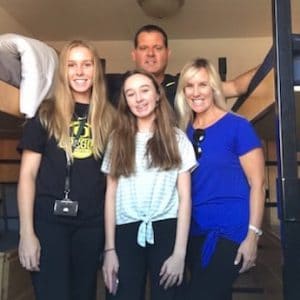 They always let me be pretty independent ever since I got my driver's license. I was able to drive myself to school, practice, and games for the past two years. Also, I have travelled alone to many out of state softball tournaments, and this has helped me learn how to be on my own in an unfamiliar environment. I believe the morals and values that I have grown up with my whole life has helped me create new friendships and transition well into college life.
 You've been on campus now for a few months, what advice would you give incoming freshmen on making the transition?
Allee:  If I could give advice to incoming freshman, I would tell them many things for both school and for softball. For school, staying on top of work and doing assignments in advance is very important. You never want to wait until the last night to do something because it will be hard to stay motivated to do a good job on the assignment when you're up late. There are many pieces of advice I could give for the softball side, but I believe the most important is to listen and to take in as much as you can. Freshmen are constantly told to do "freshmen duties," and though this is annoying at times, make sure to always do it with a good attitude. Your coaches and teammates will notice your hard work and take it into consideration when writing the lineup. Also, it will be overwhelming to learn so much in such a short time, so take it in and do the best you can to learn new ways of playing the game. One of the best qualities you can have as an athlete is being coachable, and your coaches will respect you because of the effort you make to learn what they teach you. 
Written By: Amanda Freed Katchka
@amandafreed7