WrestleMania 33 weekend in Orlando, Florida has come and gone and it was one for the books. New faces, surprise returns from old faces, and a send-off for possibly the greatest character in the history of professional wrestling to cap off an amazing weekend of entertainment brought to us by WWE. With that, I take a look at my top 3 moments from both WrestleM​ania 33 and NXT: Takeover events.
Authors of Pain vs. The Revival vs. #DIY
The Standout match from Saturday's spectacular NXT: Takeover event saw The Authors of Pain successfully defend their NXT Tag Team titles against both The Revival and #DIY in a 3-way elimination tag match in an instant classic that will fr sure be on many people's Match of the Year lists. All ​three​ teams managed to tell a great story in their own way, with longtime rivals #DIY and ​The ​ Re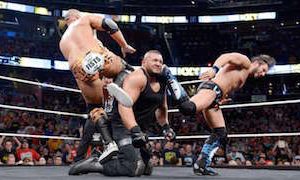 vival working together to take down the bigger, dominant champions only for AOP's brute strength to prove itself too much for both teams to handle. After months of working together, the chemistry between these three teams was in peak form. My personal favorite spot of the match was when at one point during #DIY and ​The ​ Revival's brief alliance in attempt to bring the champs down, #DIY's Johnny Gargano performed his tag team's finishing moon not with his partner Tommaso Ciampa, but Revival's Scott Dawson took his place to deliver the devastating super kick/knee combo on one of the champs. While seconds later, Ciampa aided Revival's Dash Wilder in their own finisher known as the Shatter Machine! It was a match filled with excitement and jaw dropping moments, and set the bar for all performers of WrestleM​ania weekend.
The Return of The Hardy Boyz
As the triple ​-​ threat tag team ladder match between Cesaro & Sheamus, Enzo & Cass, and The Club was getting rea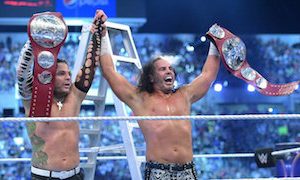 dy to begin, fellow tag team and then Wrestle ​M​ ania hosts ​​ The New Day came out to address the competitors in the ring, fully dress in their ring gear to announce that there will be a 4th team added to the match. But the crowd of 70,000+ at the Citrus Bowl in Orlando, Florida were happily surprised to see the return of one of the most beloved and exciting Tag Teams in WWE History, The Hardy Boyz! Brothers Matt and Jeff returned to a thunderous amount ​of ​ applause and "DELETE!" Chants, thanks to Matt's "Broken" gimmick he made extremely popular outside the WWE. The pair showed they hadn't lost a step in their 7-8 years away, particularly Jeff who reminded everyone who the ultimate daredevil still is as he hit his signature Swanson Bomb on Cesaro off a 20 ​-​ ft ladder through another ladder. The big return was topped off with Matt climbing the ladder in the ring and grabbing the belts to become WWE tag team champions for the 7th time
The Undertaker says Farewell
One of the most historic careers in the history of professional wrestling came to a close to end Wrestle ​M​ ania 33 this year, as The Phenom who is The Undertaker ​,​ had his last match after a legendary 27 ​-​ year career in the WWE. At ​age ​ 52, The Undertaker would go on to lose to Roman Reigns after taking ​five​ Spears before succumbing to the 3-count pin ​ ​ fall. No longer the big dog in the yard, The Dead Man stood in the ring after ​the ​ loss and gave one last look at the 70,000+ crowd in attendance at the Citrus Bowl in Orlando before leaving his signature gloves, trench coat, and hat in the middle ​of​ the ring and giving one last Undertaker salute. As he exited the ring, he made his way to his wife, former WWE Diva Michelle McCool, to give her a kiss on the for ​e​ head, then gave one last rise of the fist to the fans as he was lowered under the ramp where he made his entrance. We've undoubtedly seen the end an of era, for the Undertaker was considered by many as "Vince McMahon's greatest creation". #ThankYouTaker