We continue our Legacy series with one of the most wholly-developed people to come through this program, Leneah Manuma.  Leneah was a tremendous power hitting lefty with an intimidating presence on the field, but had the ability to keep it fun, light, and in perspective off. With a fierce dedication to her own development and the loving support of her family, Leneah experienced many of the successes softball had to offer.  Leneah was a Firecracker from 1997-1999 before continuing on at the University of Arizona. A few of Leneah's accolades include: 1999 USA Junior World Team silver medalist; 2x all Pac-10 honors (2001-2002), 2x All-Pacific Region honors (2001-2002); 2x NCAA NFCA 1st Team All-American (2001-2002); 2002 NCAA Homerun leader (21);  2001 NCAA National Champion.
In 3 words, describe your 10 year old self.   Joyful. Adventurous. Happy
You are very lighthearted and funny, were you that same person on the field as you were off?
I was certainly more intense on the field…but lighthearted Me was always there.  For example, if things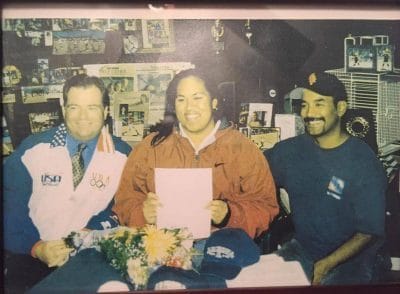 on defense ever got chaotic or you could feel a momentum shift to the other team, I wasn't afraid to call time or just go talk to my pitcher and say something to lighten the mood, maybe not make her laugh, but at least get her to crack a smile…just to allow time for a couple deep breathes, a quick reset and then we would be ready to go again.
Who was your favorite teammate ever?
I don't think I had a favorite teammate ever…I was really fortunate to be on teams where I genuinely liked everyone and we got along and had fun on and off the field.  I loved my senior class on the Firecrackers.  It was Eryn Manahan, Mandy Burton, Brooke Boyer, Melinda Moulden, Amber Grahlman and myself and we had a blast.  It was a special group I felt.  Our last Colorado trip is one I will never forget.  We visited Red Rock and even went to the snow.
What was one of the funniest moments you recall as a Firecracker?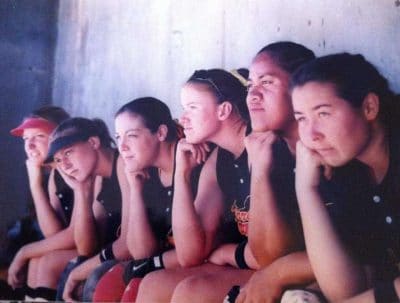 There have been many! I would say it was an ongoing "moment"…before smartphones and streaming Netflix or Hulu we literally had to entertain ourselves between games or even back at the hotel. You can only watch so much TV on the 4 channels the hotel provides until you just want to do something else! We would play a lot of cards…there was a particular game (and I can't remember the name of it because it would change all the time because we couldn't even remember what to call it) but it was similar to the card game WAR.  We would sit in a circle and certain cards were wild I think and if the wild card was thrown down you had to hit the card before anyone else did.  Which seems easy but when everyone is competitive and everyone is anticipating the wild card we would end up leaning closer and closer to the cards then screaming and hitting each other so hard on the hands trying to hit the cards.  We may have had some jammed fingers at times and I definitely had scratches but we didn't care. It was so much laughing, too much screaming and lots of FUN.  Looking back the real fun of it all was that we were together, doing something and enjoying each other. It was real interaction.
In 3 words, describe your family.   Solid. Loving. Fun.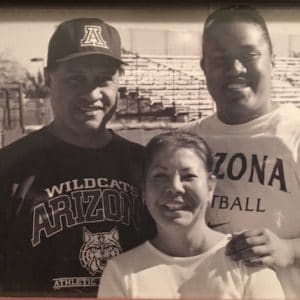 When you began your first year at the University of Arizona, what surprised you the most with regards to school, softball, and balancing the two?
I think what shook me the most was having to balance both school and softball all while dealing with an injury that sidelined me for my entire freshman year.  And I will tell you that I did not balance them very well.  My focus went elsewhere…it was one part depression that I had gotten hurt and I wasn't able to help my team, another part of feeling like I was a disappointment to the coaches and the community because I couldn't play, and the rest of it was just me not making very good choices regarding my academics.  I never wanted to say "no" to things so if someone asked me "Hey can you do this?" Even though I knew had school work or other priorities I would say, "Sure!" I didn't want to disappoint anyone and what ends up happening when you have that mindset is you end up disappointing everyone, yourself included.  I can say with confidence that one of the best ways to be a good teammate: take care of your business…because YOU are responsible for YOU.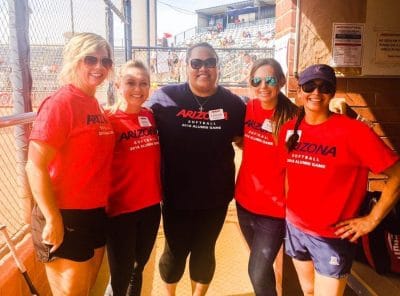 You used to hit some monster homeruns! I want to know what your approach was in the box. Did you have a trigger word or thought?
Every time I tried to hit homeruns, I failed.  So my approach was "don't try to hit a homerun."  I focused on hitting the ball hard and putting a good swing on a good pitch. I did all my thinking and preparation in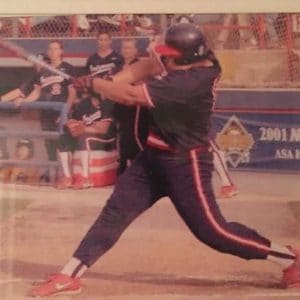 the on-deck circle because once I stepped in the box, it was all about relaxing and reacting to the pitch and hitting it where it was pitched.  When I was really dialed in, the crowd was muted in my mind…I couldn't hear anything except what I wanted to hear and I couldn't see anything but the pitcher and the ball.  It was like that movie For Love of the Game where Billy Chapel says "Clear the Mechanism"…it sounds corny but when you can get in the zone like that… it's good times.
If you had to write a scouting report on yourself (hitting) what would it say?
If you get ahead you can throw her a rise ball (shout outs to Amanda Freed and Jocelyn Forest) or jam her low and in (shout outs to Cat Osterman) LOL  She can sit on a change and she can hit the ball where it's pitched.
What is one of the most important life lessons you took away from the game?
There are no shortcuts.  Success requires hard work and sacrifice.  Nothing comes easy and no one owes you anything… to be successful you have be willing to work longer and harder than others to achieve the things you want to achieve.  And even if you fall short…the hard work is not in vain.  The game knows.  Life knows.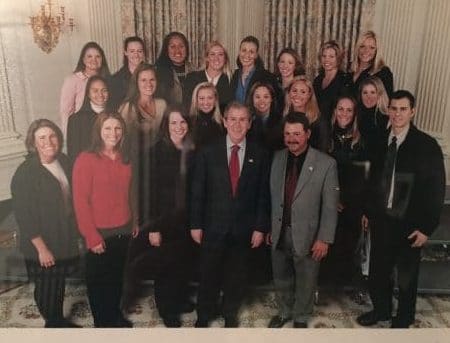 Your overall outlook on life today…
When God sees fit to bless me with another day, it is a chance to do better and be better than I was the day before. Everyday is an opportunity to be a good person and give that energy to others.